Couchdrop is a cloud-native SFTP and MFT platform that facilitates fast and secure file transfers between different storage systems. With Couchdrop, you have full control of your data and bring your own storage. No data is ever stored by Couchdrop at any stage, which makes it ideal for transferring sensitive data like health records and financial information.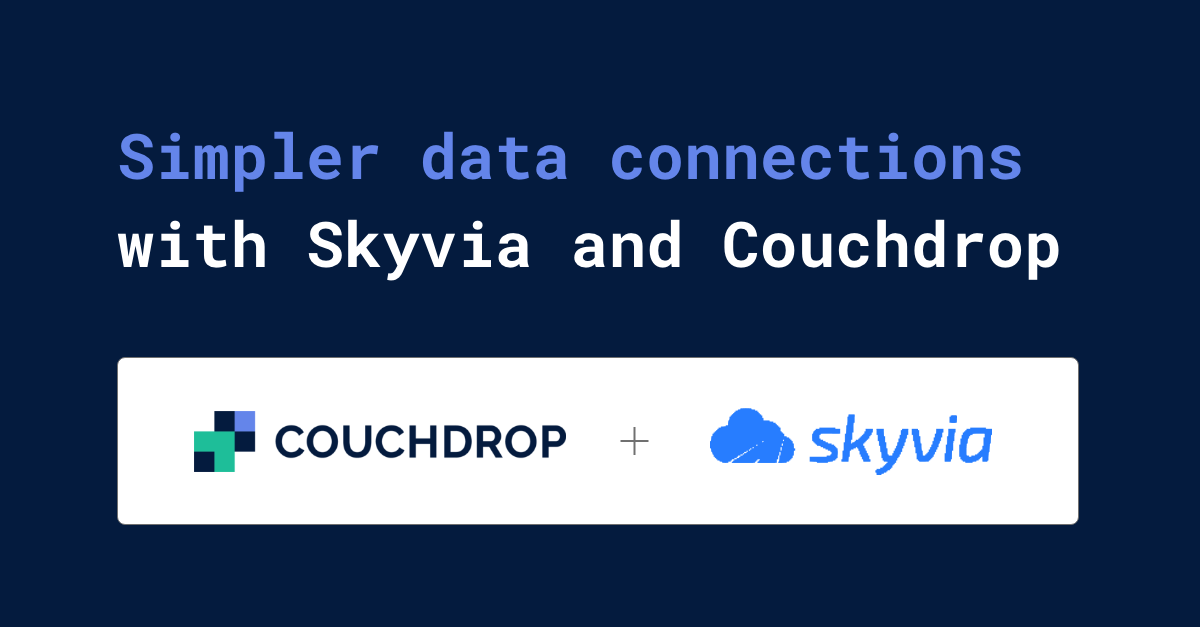 When it comes to secure file transfer, Couchdrop's security and versatility make it an ideal choice for any organization that needs to regularly move files between systems. However, some organizations need more direct connections to platforms like Salesforce and need to sync databases as well as move files.
This is where a product like Skyvia comes into play, and combined with Couchdrop you can easily get your data where it needs to be.
What is Skyvia?
Skyvia is a cloud data platform used for backups, data integration, and access & management. It can help organizations move or replicate data, such as extracting data from multiple platforms and consolidating it in one place or syncing relevant data across several systems automatically.
On the Professional and Enterprise plans, it allows for unlimited scheduled integrations with advanced integration scenarios and mapping features and can pull through millions of records per month.
Skyvia connections
Skyvia supports several different protocols including SQL, ODBC, OData, and ADO.NET. With this versatility, Skyvia has over 100 supported connections including Excel, HubSpot, and Salesforce.
However, Skyvia doesn't support direct connections that would be beneficial for organizations such as a direct Salesforce to SharePoint integration. Instead, it first needs to transfer that data through a protocol like SFTP first–which is where Couchdrop comes in.
Simpler data connections with Skyvia and Couchdrop
Couchdrop takes the complexity out of SFTP with a simple setup that doesn't require working in a terminal or writing out a config file. Setup is done automatically upon making an account, and settings are all managed through the simple web interface.
As a cloud-native SFTP platform, Couchdrop was designed to work with the cloud. Connecting storage like on-premise servers or cloud storage is simple and can be done in minutes.
Combining simple SFTP with Skyvia's wide range of integrations allows fast and simple file transfers across an enormous range of applications.
Skyvia and Couchdrop use cases
Since Skyvia has over a hundred built-in connectors and Couchdrop can connect to over 30 cloud storage providers as well as on-prem OSX or Windows servers, combining the two will handle numerous situations where you need to move files.
Some ways to combine the strengths of Couchdrop and Skyvia include:
Automate CSV data loading using Skyvia's Salesforce integration for moving data in or out of Salesforce and using Couchdrop SFTP to move those files between different file storage.
Send files from a CRM like HubSpot using Skyvia, and create an SFTP server using Couchdrop's quick and easy cloud setup for further distribution.
Using Couchdrop to connect to a SharePoint site via SFTP, and having Skyvia connect to the same Couchdrop SFTP server and connecting to one of the dozens of apps supported by Skyvia connectors.
Migrating everything with Movebot and Skyvia
Movebot is a file migration tool developed by the Couchdrop team that can help move your on-premise servers to the cloud or help you move between cloud data storage platforms. When combined with Skyvia, your organization can migrate needed data quickly and easily.
With Skyvia's huge range of integrations, you can connect to many systems where your business might be storing databases and migrate those into any of the other supported integrations. Using Movebot on top of that, you can also move files from an on-premise server or cloud storage platform like Google Workspace, Dropbox, or SharePoint and quickly and easily migrate those files.
Switching your organization to software that is a better fit doesn't have to be a challenge thanks to Movebot and Skyvia.
Try Skyvia and Couchdrop for free
Both Couchdrop and Skyvia offer free trials so you can try the products firsthand and make sure that they'll suit your requirements. Skyvia has a free plan that allows 2 scheduled integrations, 1GB backup storage, and 1 endpoint and connector. You can see the difference between plans and sign up for the Free plan on the Skyvia pricing page.
With Couchdrop, you can get a 14-day free trial without any feature limitations. No credit card is required, so you won't be subscribed unintentionally at the end of the trial. Simply complete the quick registration and your SFTP server will be set up automatically. Get started now by registering for your free trial.