Banks and financial institutions tend to have lots of different file systems such as servers, ERP, and cloud storage. But getting the files users need from all of them can be a challenge, especially if it has to be done manually.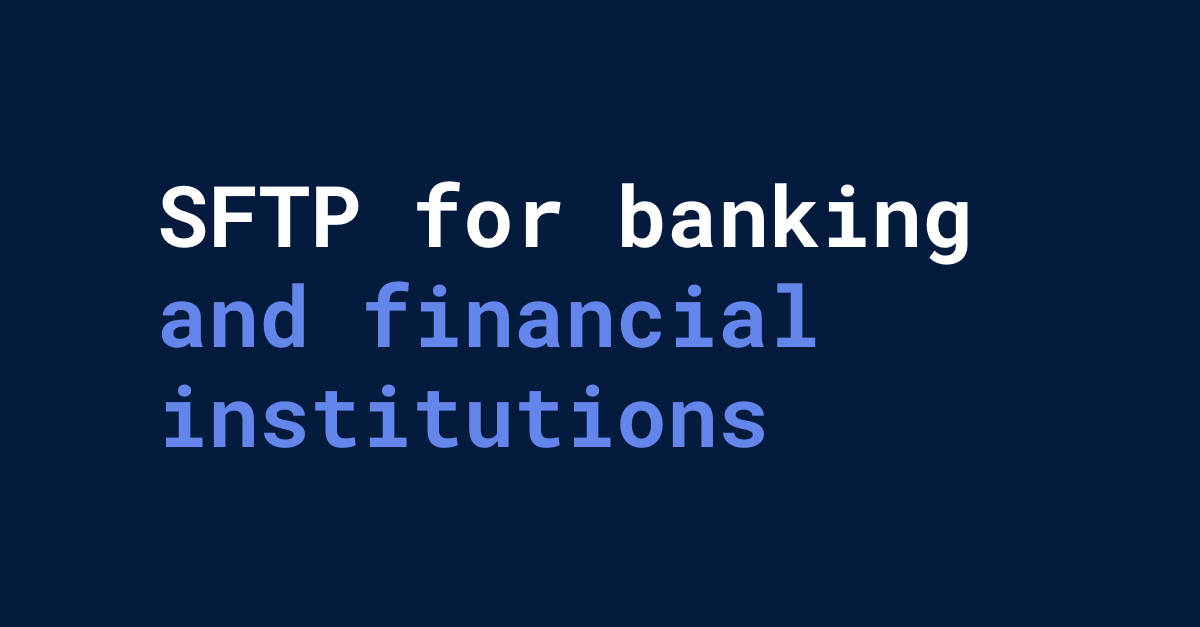 Couchdrop helps you connect all your systems together and securely transfer files between them. Whether you need to transfer files from NetSuite to SharePoint, a server to cloud storage, or anything else, Couchdrop gets your files from wherever they are to where they need to be quickly and securely.
Couchdrop SFTP is suitable for banking, credit unions, and other financial institutions in particular because it meets required compliance and security standards. With Couchdrop, data is never stored at rest; it simply works as an intermediary to move files between your other systems. This means that no customer data is stored on Couchdrop servers, and you have full control over your data.
Why use Couchdrop SFTP for finance?
Couchdrop is a cloud-native MFT platform with a serverless architecture designed to make file transfers fast and secure. Setting up an SFTP server with Couchdrop takes a couple of minutes with no need to write config files or spin up virtual machines.
A primary feature in Couchdrop is its versatility and connectivity, Couchdrop can connect to many types of cloud systems like Microsoft Azure and Sharepoint, as well as to on-prem servers using the Couchdrop agent. This means you can use legacy, proprietary, or specialty systems–including software specific to financial institutions — and securely transfer files to the cloud for storage or for further action.
Common uses for SFTP for financial institutions
There are many reasons for FIs like banks and credit unions to use SFTP, and Couchdrop makes secure file transfers easy. Some common uses include:
Transferring files from an on-premise server into another server or cloud storage account for further action such as cheque imaging.
Using

automations

to archive files in a specific directory regularly, such as on the 5th of each month.
Moving old records to a Cool tier in Azure after a certain amount of time has elapsed for cost savings
Having customers upload documents with Personally Identifiable Information into a

secure upload portal

and transferring those files to the bank's internal server.
Retrieving statements that can be added to customer profiles or sent directly to the customer.
Connecting to partner or supplier servers (such as another SFTP server) and securely moving files between the two as needed.
Sending quarterly finance reports generated from

bank software to a SharePoint site

where the information can be used for board presentations.
Connecting to financial platforms via SFTP with Couchdrop
One of the benefits of using Couchdrop for SFTP for banking and finance is that the platform is versatile. It can connect to both cloud systems like Alkami, MYOB, or AccessPay, as well as legacy systems on on-prem servers, with the added benefit of letting you bring your own cloud storage.
Connecting to Couchdrop is easy. Simply make an account, add your storage, and you're ready to go. Cloud storage like Azure and Google workspace only takes a couple of minutes and a few clicks to set up. However, connecting to back-office software or an on-prem server can take a few more steps, which we'll walk you through below.
How to connect to banking systems
Most banking systems and servers connect to Couchdrop through the Windows/OSX agent. To use the Couchdrop agent, you'll need to download and install it from the Couchdrop website.
To do this, log in to Couchdrop and choose Add Storage Integration and then Windows/OSX Server at the bottom of the list.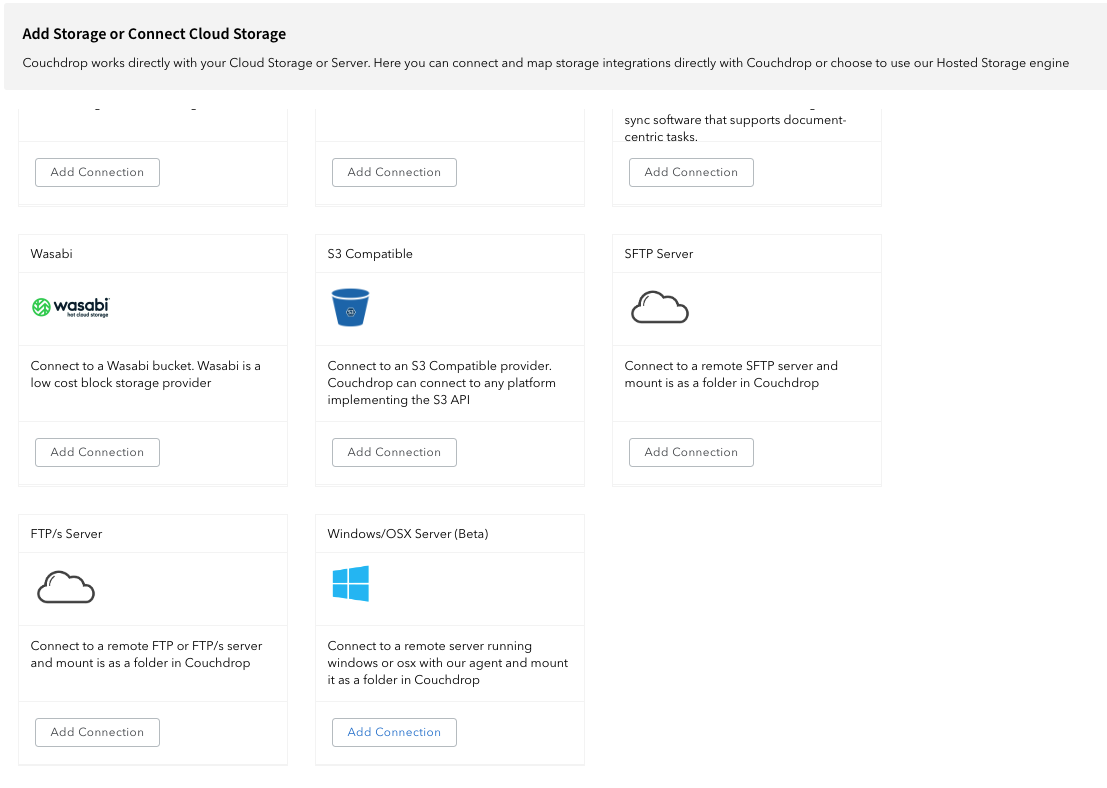 A new window will open. Choose how the integration will appear in Couchdrop, then download and install the agent. We recommend running this on a virtual machine using VMware ESXi or Hyper-V.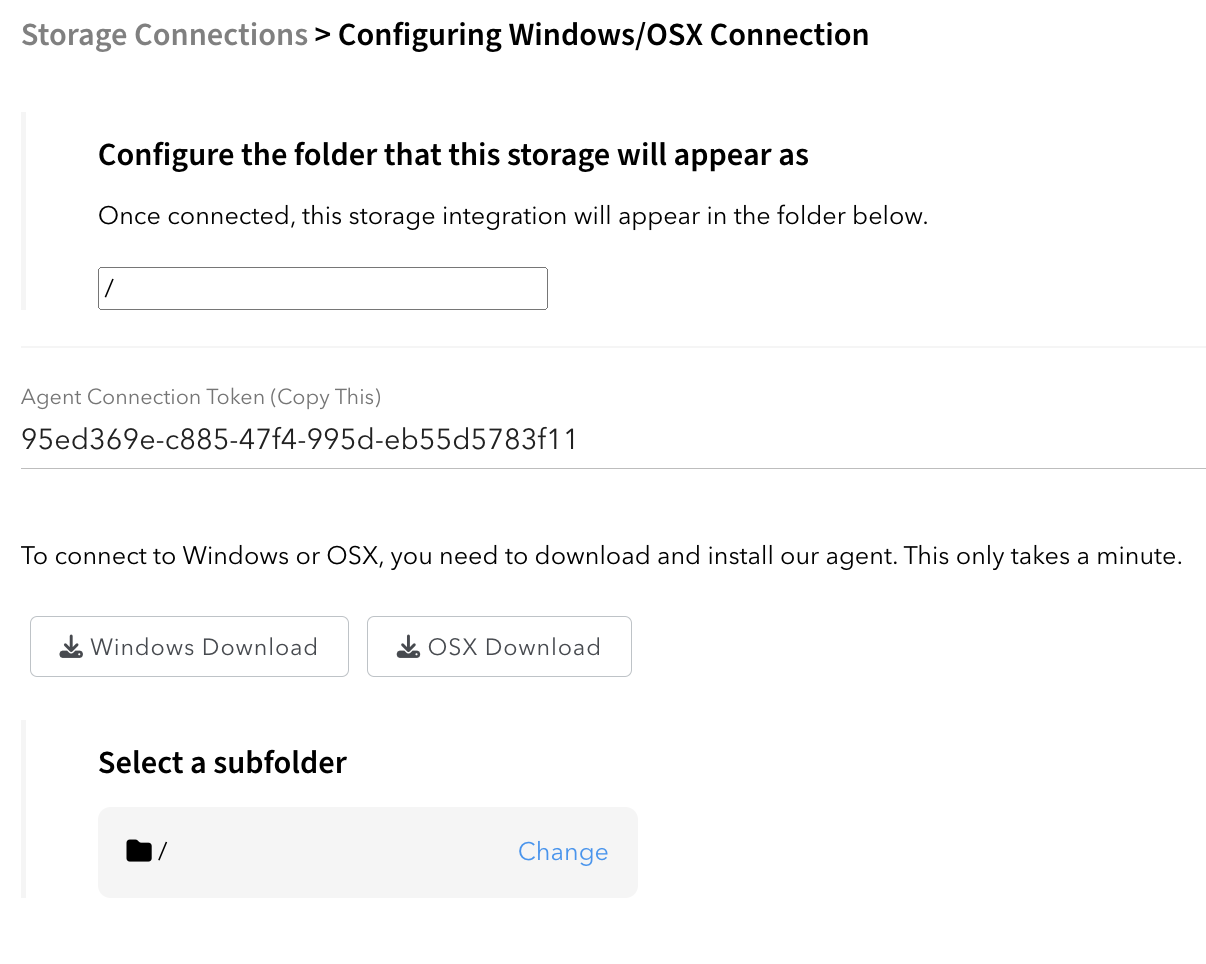 Be sure to copy the Agent Connection Token, as you'll need it to complete the connection after running the installer. Next, run the installer and follow the prompts on the setup wizard.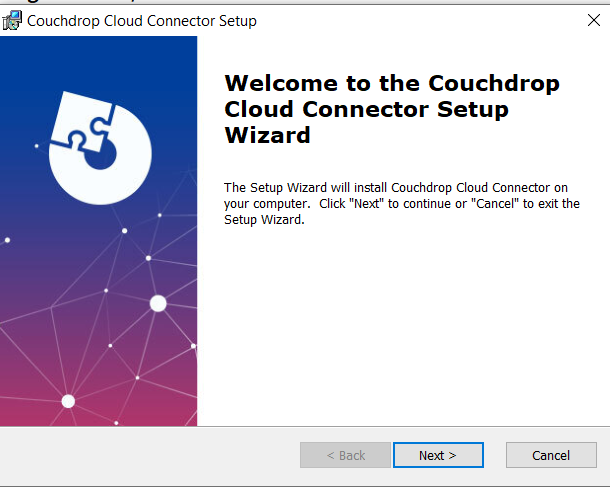 Complete the installation. If the Cloud Connector Application doesn't start automatically once the installation is complete, open it manually to continue setup.

The Couchdrop Connector window will open with your device information and a place to enter your Agent Connection Token. Paste the token from your Couchdrop account you copied earlier in this field.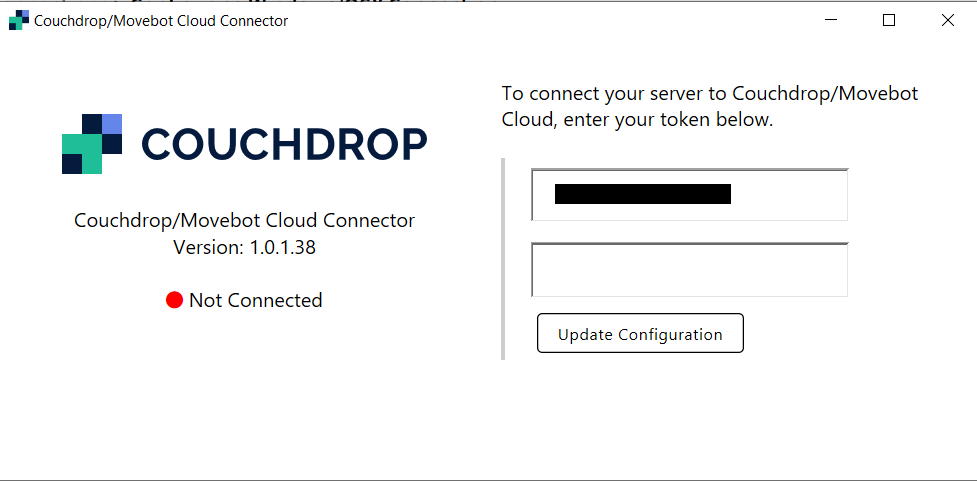 Paste the code and click Update Configuration. The Not Connected should change to a green dot and show Connected.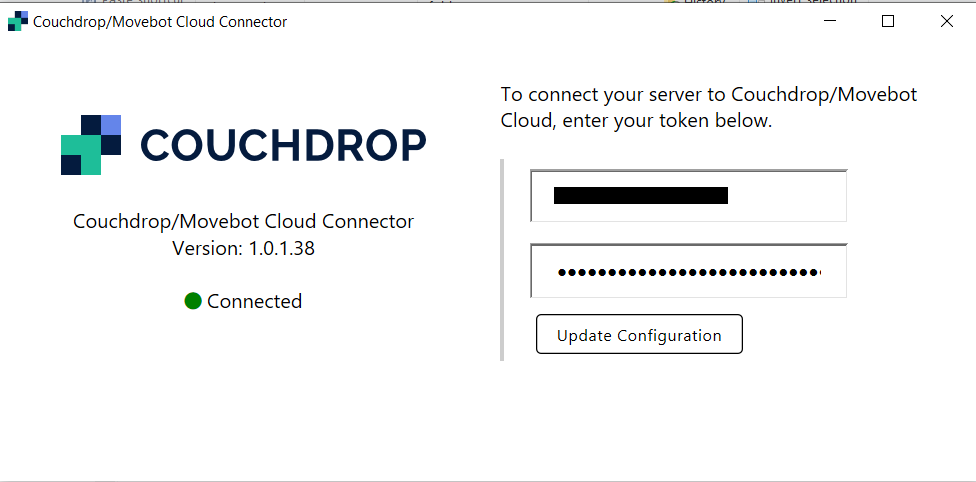 If the Connector continues to show Not Connected, you may need to run the Couchdrop Cloud Connector Service manually after clicking Update Configuration.

You can also configure the Couchdrop agent to run as a service and start automatically using the NSSM service manager. Find out how to install the agent as a service.
Back in Couchdrop, you can select a subfolder from your server as the top-level directory for user access within Couchdrop. Once you've chosen the folder, choose Save Storage and you can access server files directly in Couchdrop.

Once the connection is complete, you can use your Couchdrop SFTP details to connect to your server through SFTP to transfer files as needed. These credentials were set up during account registration and you can find them by clicking the "Connect to [your subdomain]" button in Couchdrop when logged in.
Making the most of Couchdrop's cloud SFTP for financial institutions
Connecting to your server through SFTP is only one part of what Couchdrop can do for financial institutions. The real power comes from using Couchdrop to connect to cloud storage or to other services. This is especially useful if your FI uses multiple cloud storage providers or servers that you need to connect to regularly.
For instance, the software on your on-premise server could be running the Couchdrop agent and generate a data feed. Automations can act on that generated feed as soon as it's uploaded, and then pull it from the server into a Microsoft SharePoint site. Another report from the same server could be sent to a Dropbox Business account instead based on the filename so the data can be used for a presentation. All done securely through SFTP without users having to touch anything.
The set-and-forget aspect of Couchdrop means less time doing grunt work and freeing up time for what's important. With easy setup and the ability to connect to your servers and storage, Couchdrop simplifies SFTP for banking and financial institutions by providing a fast and secure way to transfer files. Register for a free 14-day trial today to see how Couchdrop can work for you.